Technologies
Express Nodejs Nodejs RestFul API
A WhatsApp chatbot is an automated software application that uses the WhatsApp API to communicate with customers or users on the WhatsApp platform. A chatbot can be designed to perform various tasks, such as providing customer support, answering frequently asked questions, sending notifications or updates, and collecting user feedback or data.

The WhatsApp chatbot can understand and respond to user queries by using machine learning algorithms, natural language processing, and predefined rules. The user can interact with the chatbot by typing in their queries or selecting options provided by the chatbot.

Chatbots can be programmed to handle simple or complex tasks, allowing businesses to automate and streamline their communication with customers on WhatsApp. By using chatbots, businesses can provide more efficient and effective customer service, reduce response times, and improve customer satisfaction.

WhatsApp for Business
WhatsApp API chatbots can be used for a wide range of businesses and industries, including:
E-commerce
Customer Support
Travel and Hospitality
Healthcare
Banking and Finance
Education
Real Estate
E-Commerce example
---
Start
Write something to chat
Select what you want to do
Find the location
Talk with a human
Enter Shopping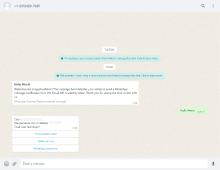 Find the location
Show the location with goolge maps
Talk with a human
Show all the contact methods
E-Mail
Phone Number
Address
Select the way of searching for the products
Write code, name or anything related to the product you are interested to find
If there exists the product that the user is looking for, there will be shown a list of all products that are available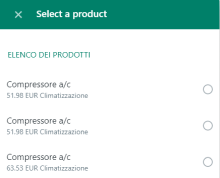 The user can select one product from the list
The chatbot will show to user all informations related to that product
Add the product to Cart
If the user wants to add more products should follow the same procedure,
search for product
select the product,
add the product to cart
The user can pay for the ordered products
At the end the user can generate a PDF of the ordered product
Building a WhatsApp API chatbot for ecommerce is a fast and easy way to enhance customer engagement and streamline the sales process.
With the comprehensive set of APIs and tools provided by WhatsApp, developers can quickly build and integrate chatbots with their ecommerce platform. Once the chatbot is set up, customers can easily access product information, make purchases, and get their queries answered, while businesses can automate certain aspects of their sales process. Overall, building a WhatsApp API chatbot for ecommerce is a fast and easy way to enhance customer satisfaction, increase efficiency, and reduce costs.